Details of our 2017 grants are announced
Monday, 27 November 2017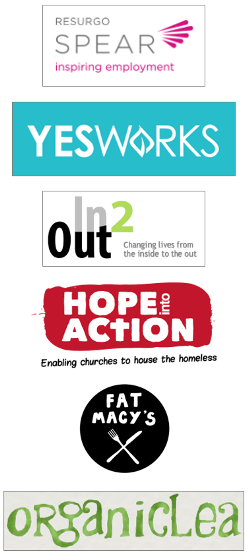 Following a meeting of our Trustees, the Foundation has awarded the following grants for 2017:
…£1,904 to Spear Islington Trust in London. They help disadvantaged NEETs in and around Islington through a year-long programme aimed at helping their beneficiaries into paid employment. Over 66% possess a criminal record, mental health condition, and a learning disability. Their grant will allow them to purchase three new computers, helping their coaches to deliver training programmes.
…£2,000 to Glasgow-based YES Works. This social enterprise, launched in 2015, provides employment and work experiences for vulnerable and socially excluded young people. They do this through providing landscape gardening services to local authorities, housing associations, and local community members. Their grant will help in purchasing tools and equipment for their beneficiaries to use to continue their training.
…£1,100 to In2Out based out of a Young Offenders Institute in Yorkshire. They aim to reduce reoffending by bringing positive change to young people who are leaving custody. Their mentoring programme helps to provide guidance and purpose on issues like housing, employment, training, finances, health, and substance abuse. Their grant will help towards training volunteer mentors on issues of safeguarding, employment solutions, the benefits systems, and numerous other programmes.
…£2,000 to Hope Into Action: Black Country. Based into Wolverhampton, the charity provides supported accommodation to ex-offenders and the recently homeless. In particular they, assist victims of trafficking, modern day slavery, refugees, and asylum seekers. Their grant will help towards the provision of office furnishings, computers, and software, to better engage with their beneficiaries as well as increase the number of properties they are able to run.
…£2,000 to Fat Macy's in London. The social enterprise trains aspiring chefs, providing ex-offenders and the recently homeless or vulnerably housed to gain skills that will springboard them into a successful career. They do this by running supper club events and in-hostel catering 'boot camps'. Their grant will help towards staff training and development including culinary and public speaking skills.
…£2,000 to OrganicLea Ltd. The London-based social enterprise produces and distributes food through a workers' cooperative, aiming to make a more just and sustainable society. They provide NEETs with skills and qualifications in horticulture and gardening. Over 80% of their beneficiaries have ended up in paid employment in the past five years. Their grant will help towards IT improvements, HR and governance training programmes, and developing a more detailed assessment of the impact of their projects.